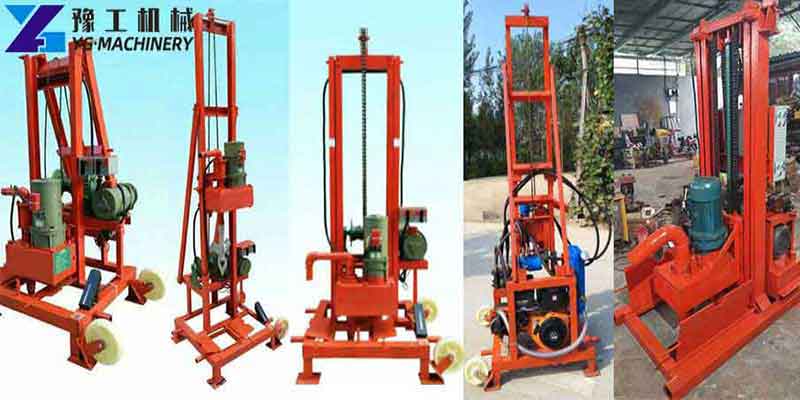 The small water well drilling rig, borehole drilling rig for sale in YG Machinery manufacturer, which is a simple, convenient, economical, and practical new mechanized drilling rig. Its advantages are small power and low cost to meet household needs. According to different hole diameters and depths, we have many types of water well drilling rigs, such as rotary drilling rig, horizontal directional drilling rig, trailer mounted water well drilling rig, portable DTH drilling rig, crawler DTH drilling rig, backpack core drill machine, diamond core drill machine, rock drill machine, etc. You can click the menu to check. The following different models of small water well drilling rigs, please refer to the parameter table for inquiries. 【Whatsapp/Wechat/Phone/Skype】+8613613856800
Technical Parameter of Borehole Drilling Rig for Sale:
| | | | | | |
| --- | --- | --- | --- | --- | --- |
| Model | HY-180 | HY-240 | HY-350 | ZX220 | ZX280 |
| Type | Electric | Electric | Electric | Gasoline/diesel | Gasoline/diesel |
| Power | 1.5-2kw 220v | 4kw 220v | 3kw 380v | 15hp | 8hp |
| Hole diameter | 80-200mm | 80-220mm | 80-350mm | 80-220mm | 80-280mm |
| Drilling depth | 80m | 100m | 100m | 100m | 120m |
| Drilling pipe | 42mm, 1.5m | 51mm, 1.5m | 51mm, 1.5m | 51mm, 1.5m | 51mm, 1.5m |
| Water pump | 2.2kw | 2.2kw | 2.2kw | 7.5hp | 3.5hp |
|  size | 0.7*0.7*2.5m | 0.7*0.7*2.5m | 0.8*0.8*2.7m | 0.8*0.8*2.7m | 0.8*0.8*2.7m |
| weight | 120kg | 150kg | 250kg | 250kg | 200kg |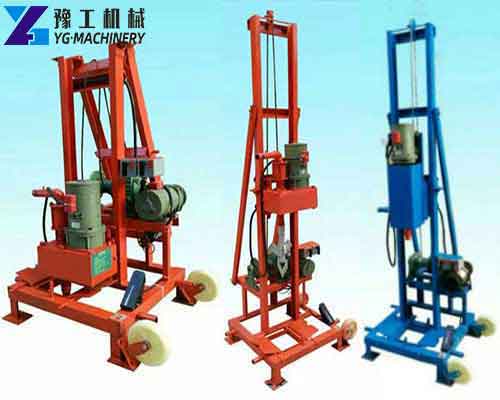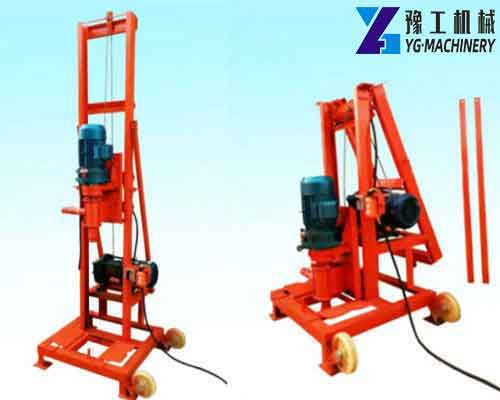 Applications of Small Borehole Drilling Machine for Sale in YG Machinery:
Small borehole drilling rigs are mainly used to develop groundwater resources, including domestic water, agricultural water, and industrial water, etc. drilling work, but also suitable for hydrogeological exploration, construction engineering, bridge foundation drilling, etc.
Characteristics of Drill Machine:
Lightweight.
Suitable for the place where large and medium rock drill can not work.
Flexible, electric motor, noiseless and powerful.
Fast Drilling speed horizontal and vertical.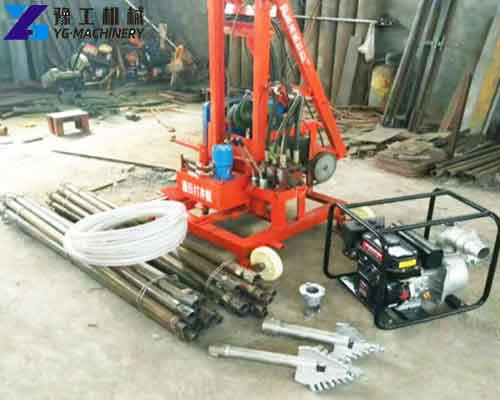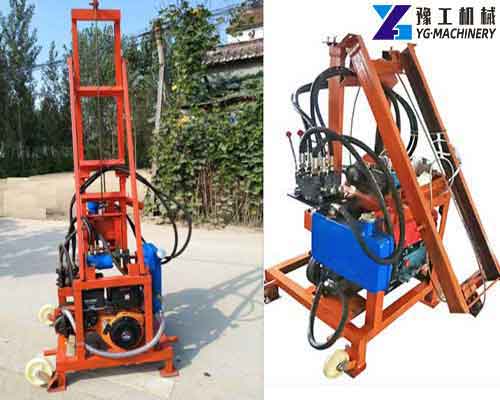 Things You Want to Know About YG Machinery:
YG's small water well drilling rigs have our customers almost all over the world. There is no need to worry about product quality. As an old manufacturer and sales company, YG Machinery has the best advanced technical team, best sales team, and after-sales service. The team never has to worry about receiving the goods and not being able to use them, and even if the customer requests, we can go to the door to guide the user.
Our equipment has served thousands of households and benefited the people. Because some customers have small budgets and plan to use them at home, we highly recommend our small water well drilling rig, which is very portable and can be operated by one person without excessive waste of labor. And the quality of the equipment is very good, and the accessories are also complete, such as drill bits, drill pipes, air compressors, mud pumps, and other equipment that can be used with. As long as you choose us, there will be no worries.
Hot Sale Water Well Drilling Machine for Sale in YG Machinery Manufacturer:
In addition, YG Machinery has many other series of drilling equipment, such as portable small water well drilling rigs, trailer mounted water well drilling rigs, small down-the-hole drilling rigs, crawler down-the-hole drilling rigs, hydraulic core drill rig, rock drills, horizontal directional drilling rigs, rotary drilling rigs, pile drivers, anchor drill machine, backpack core rigs, etc., if you need or are interested, please contact us in time. Of course, if you want to be our agent, you can also contact us to get the latest product information.【Whatsapp/Wechat/Phone/Skype】+8613613856800