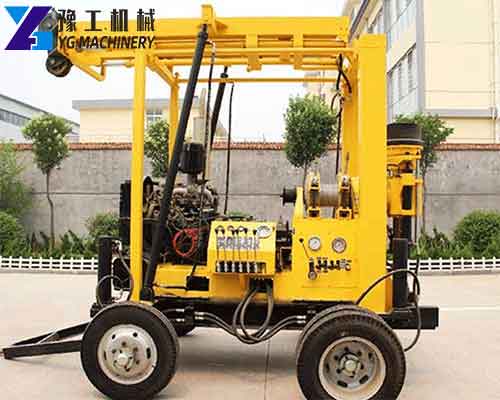 XYX-3 trailed mounted water well drilling rigs are mainly used for geological survey exploration, road, and high-rise building foundation exploration, as well as various concrete structure inspection holes, river dams, roadbed grouting holes, and directed grouting, civil water wells, and grouting temperature central air-conditioning holes. On April 20th, a customer from the Philippines sent us an e-mail saying that we would like to quote our XYX-3 water well drilling rig. Our sales manager Melinda quickly sent back emails to our customers about the price. However, our sales manager later asked about the customer's diameter and width, but our XYX-3 also just met the customer's needs. Our customers are also familiar with the water well drilling rigs, so there is no need for too much explanation and introduction. Our customers and sales managers quickly reached a consensus. Our customers are also very kind.  He said, if you have the opportunity to go to the Philippines, He can be a tour guide and take us on a tour. We are also very happy to meet this customer. I hope that there will be opportunities to continue to cooperate in the future. If you are interested in our machines, please contact us.【Whatsapp/Wechat/Phone/Skype】+86 136 1385 6800
XYX-3 Trailer Mounted Water Well Drilling Rigs for Sale
Model
XYX-3 Trailer Mounted Water Well Drilling Rigs
Drilling Depth (m)
600
Opening Hole Diameter (mm)
325
End Hole Diameter (mm)
75
Drill Angle (0)
90-75
Matching Power (kW)
YN27/39
Weight Without Power (kg)
3600
Dimension (mm)
2900*2560*3300
Vertical Shaft
Speed (r/min)
32-1057
Stroke (mm)
600
Winch
Max. Pull Force (kg)
3000
Pull Speed (m/s)
0.3-1.9
Rope Diameter (mm)
12.5
Roll Capacity (m)
65
Drill Mast
Rated Load (t)
18
Height (m)
6.5
Mud Pump
Mud Pump
BW-250
Working Pressure
80kg/m3
Displacement (L/min)
250
Hose
Inlet Hose Diameter(mm)
76
Outlet Hose Diameter(mm)
51
Trailed Mounted Water Well Drilling Rigs Main Feature:
The drilling rig is equipped with a wheeled traveling mechanism and hydraulic cylinder support, which facilitates the relocation of the whole machine and facilitates the horizontal adjustment of the drilling rig.
With a hydraulic feeding system to improve drilling efficiency.
With a pressure gauge at the bottom of the hole to indicate the pressure, it is easy to grasp the situation inside the hole.
The hydraulic lifting telescopic tower is safe and reliable.
The diesel engine adopts an electric start to reduce the labor intensity of workers.