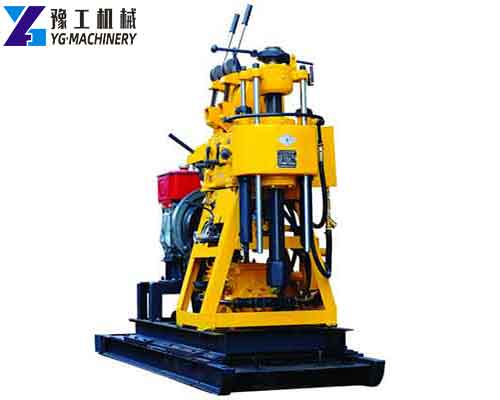 HZ series hydraulic water well drilling rig is one of the best-selling water well drilling rigs for sale in our company, for that it's cheap and easy to use. Meanwhile, it is versatile and portable. In addition to drilling wells, it is also suitable for the geological exploration of railways, water conservancy, bridges, dam foundations, and other buildings, as well as some other projects, such as geological core drilling rigs, small grouting holes, blasting holes, etc. This series of drilling machines can be divided into three types according to their drilling depth and opening hole diameter. The HZ-130Y, HZ-180Y, and HZ-200Y can respectively drill holes up to 130m, 180m, and 200m deep. Now choose the model you need and send us an email for a price list, technical parameters, and more details, you will hear from us very quickly. At the same time, YG Machinery also has small water well drilling rigs, rock drills, trailer-mounted water well drilling rigs, rotary drilling rigs, horizontal drilling rigs, pile drivers, anchor drill machines, backpack core drills, DTH drilling rigs, etc., which can meet your different needs, please contact us for more details.【Whatsapp/Wechat/Skype/Phone】+86 136 1385 6800
Technical Parameter of Hydraulic Water Well Drilling Rig
Technical Parameter
Model
HZ-130Y/130YY
HZ-180Y/180YY
HZ-200Y/200YY
Drilling Depth (m)
130
180
200
Open Hole Diameter (mm)
220
220
325
Final Hole Diameter(mm)
75
75
75
Drill Pipe Diameter(mm)
42-60
42-60
42-60
Drill Pipe Inclination (°)
90-75
90-75
90-75
Power (kW)
13.2
13.2
15
Weight (kg)
560
610
1150
Dimensions(mm)
2400*700*1400
2400*600*1400
2700*900*1600
Spindle
Speed(r/min)
142/285/570
130/300/480/730/830/1045
64/128/287/557
Stroke(mm)
450
450
450
Winch
Max Pull Force(kg)
1600
2000
2400
Pull Speed(m/min)
0.41-1.64
0.35-2.23
0.12-0.95
Rope Diameter(mm)
9.3
9.3
12.5
Roll Capacity(m)
27
35
35
Drill Mast
Rated Load(ton)
2
2
5
Height(m)
6
6
6
Mud Pump
Displacement(L/min)
95
95
145
Max.pressure(Mpa)
1.2
1.2
2
Times(times/min)
93
93
93
Hose
Inlet Hose Diameter(mm)
51
51
51
Outlet Hose Diameter(mm)
32
32
32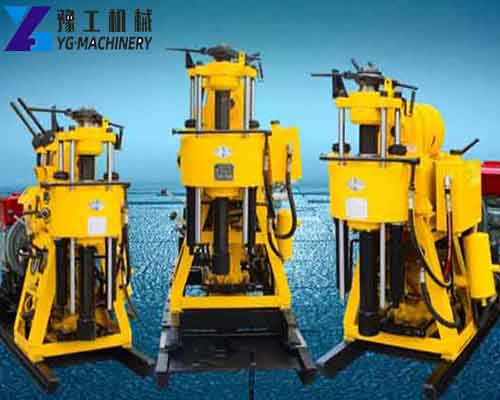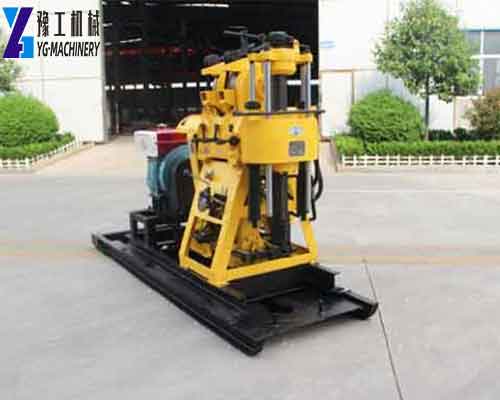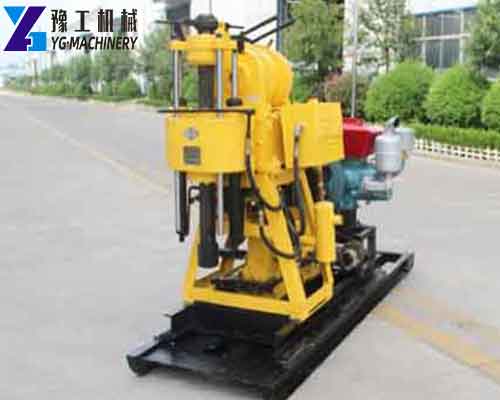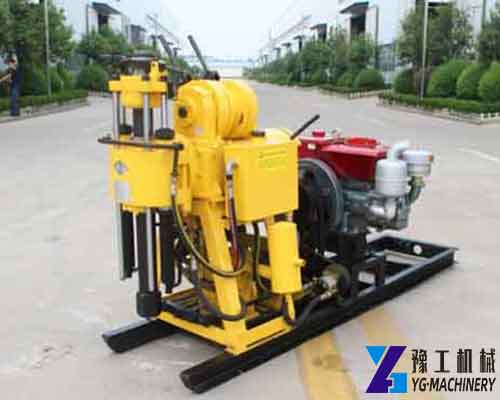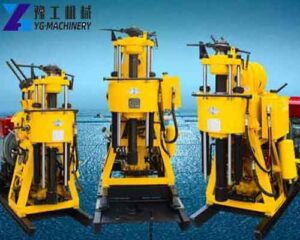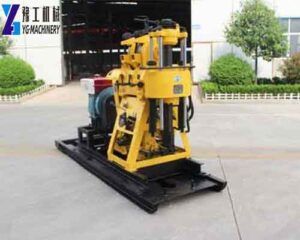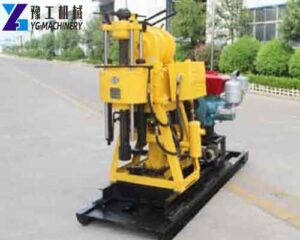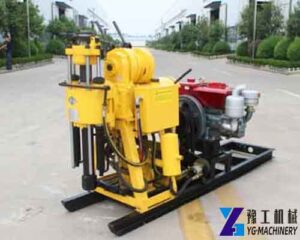 The Working Principle of Hydraulic Water Well Drilling Machine
Hydraulic technology is a new technology that develops late but develops very rapidly, which developed gradually on the basis of fluid mechanics. It mainly uses the liquid pressure for force and torque transfer, which is also called hydraulic transmission. So it doesn't need to use an air compressor, only needs the pressure of water to drill which can reduce the cost, and is convenient to transport. In addition, it always has a long service life which can save the late maintenance cost.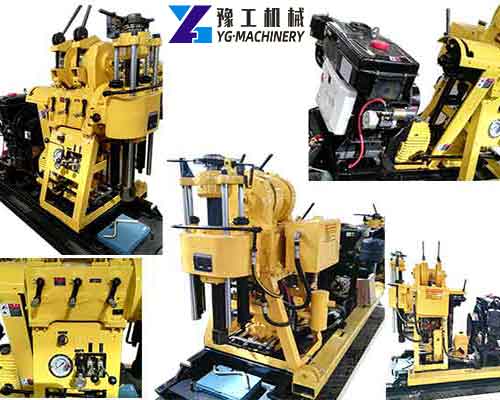 The Outstanding Features of Hydraulic Water Well Drilling Rig for Sale in YG Machinery
The hoist is equipped with a cage to form a double-sided support star structure that can withstand a strong impact.
Hydraulic automatic feed structure can reduce labor intensity and improve drilling efficiency.
The vertical axle has four sets of bearings to ensure that the gyrator is rigid enough to cope with complex geological conditions such as the gravel layer and pebble layer.
The taper clutch adopted in this machine has outstanding features of large torque transfer, convenient operation, and maintenance-free.
Ball cardholder mechanism instead of chuck that the drilling pipes can be reversed without stopping the machine. This makes the operation more convenient, safe, and reliable.
The hole bottom pressure gauge makes it easier for the operator to observe the situation inside the hole.
It is small in size, and light in weight, which makes it easy to move.
The Maintenance of Hydraulic Water Well Drilling Rig
Prevent contamination of hydraulic oil. The pollution of hydraulic pressure oil is to point to the hydraulic oil mixed with the outside air, water, dust, and insoluble precipitate formed by self-oxidation. Oil pollution can aggravate hydraulic components of relative motion between the parts of wear and tear, and cause a throttle hole to block or the slide valve to be stuck. It will also break the chemical stability of the oil, accelerate the production of oxide, and the decomposition of organic impurities in the oil. According to data statistics, more than 75% of hydraulic system fault is caused by oil pollution. So the fuel tank should be sealed reasonably. Don't use oil-resistant seals and rubber hoses, regularly clean and replace the oil to prevent oil pollution and aging.
Prevent oil from overheating. If the hydraulic oil temperature is too high, it will reduce the viscosity of the oil, increase the leakage, decrease the volume efficiency, and then cause oil velocity instability, oil deterioration, parts aging, and some other problems. In order to void excessive oil temperature, you'd better choose the recommended hydraulic oil, as well as pay attention to the correct oil level in the fuel tank to ensure that the system has enough circulating cooling oil. Meanwhile, please maintain sufficient water in the cooler and pipeline smoothly.