DTH drilling machine is a kind of drilling machine mainly for drilling rocks. The machine can widely be used in large diameter hole drilling operations of small and medium-sized mines, road construction, water conservancy, and rock excavation, as well as drilling bolt holes in slope support, tunnel support, and foundation pit support. Compared with the primitive top hammer machines used for quarrying, the new DTH drilling machine can drill the hole precisely, also has the advantages of high efficiency, safety, and labor-saving. The DTH drilling rigs can be classified in different ways. Depending on the place of uses, it can be divided into underground and open DTH drilling machine, self-propelled and non-self-propelled models according to its walking mode. The equipment can be called light, medium, and heavy down the hole drilling machines according to the hole diameter. Please choose the suitable model according to your actual needs.
Types of DTH Drilling Machine for Sale in YG Machinery
According to the way of walking, it includes small leg type DTH drilling machine: SKD70-100-120, SKQ70-100-120, and crawler mounted DTH drilling rig: SKL100T 130/SKM150T 153/SKH320. Gas-electric type and all pneumatic type depending on the power. It can also be divided into low, medium, and high wind pressure by the level of wind pressure. Then according to the hydraulic power configuration of the drilling machine, customers can choose the diesel model, electric, and diesel-electric model to purchase. Now check the technical parameters of all the models of DTH drilling rigs for sale in our company and send us an email from the inquiry button for a quotation.
SKD70 Electric DTH Drilling Machine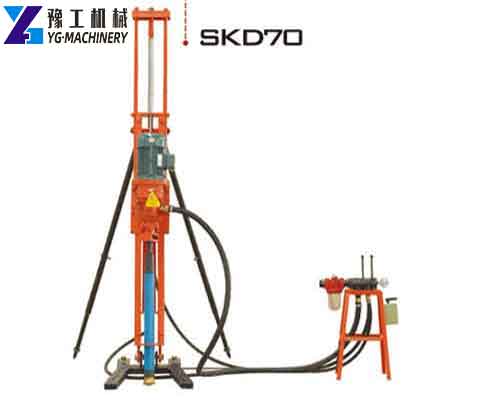 Model: SKD-70
Drilling Hole Diameter: 50-90mm
Drilling Depth: 15m
Drilling Speed: 110r/min
Working Air Pressure: 0.5-0.7mpa
Air Consumption: 4m3/min
Cylinder Diameter: 90mm
Max. Propelled Force: 8000N
Drilling Rod OD: 42mm
Drilling Rod Length: 1025mm
Dimension: 1740*260*420mm
Weight: 280kg
Request A Quote
SKQ70 Pneumatic DTH Drilling Machine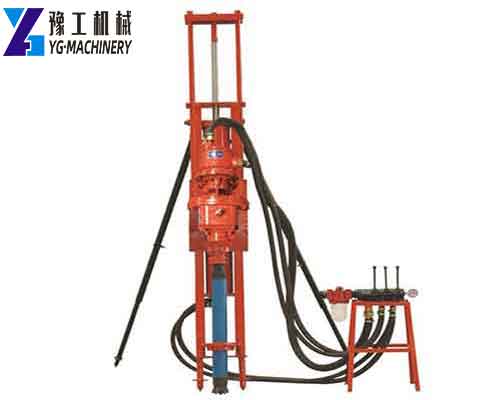 Model: SKQ-70
Drilling Hole Diameter: 50-90mm
Drilling Depth: 15m
Drilling Speed: 110r/min
Working Air Pressure: 0.5-0.7mpa
Air Consumption: 4m3/min
Cylinder Diameter: 90mm
Max. Propelled Force: 8000N
Drilling Rod OD: 42mm
Drilling Rod Length: 1025mm
Dimension: 1740*260*420mm
Weight: 280kg
Request A Quote
SKD100 Electric DTH Drilling Rigs Technical Parameter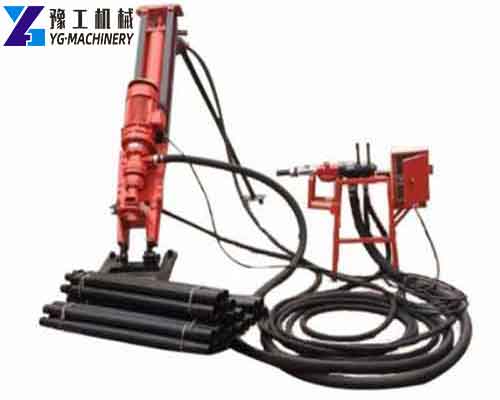 Model: SKD-100
Drilling Hole Diameter: 90-130mm
Drilling Depth: 0-25m
Drilling Speed: 110r/min
Working Air Pressure: 0.5-1.0mpa
Air Consumption: 6m3/min
Cylinder Diameter: 140mm
Max. Propelled Force: 9600N
Drilling Rod OD: 50-60mm
Drilling Rod Length: 1025mm
Dimension: 2280*440*550mm
Weight: 470kg
Request A Quote
SKQ100 Pneumatic DTH Drilling Machine Specification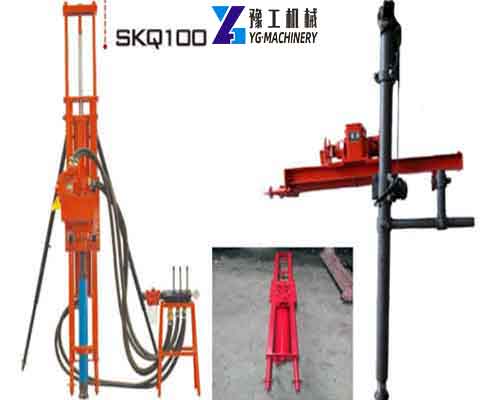 Model: SKQ-100
Drilling Hole Diameter: 90-130mm
Drilling Depth: 0-25m
Drilling Speed: 110r/min
Working Air Pressure: 0.5-1.0mpa
Air Consumption: 12m3/min
Cylinder Diameter: 140mm
Max. Propelled Force: 9600N
Drilling Rod OD: 50-60mm
Drilling Rod Length: 1025mm
Dimension: 2230*380*550mm
Weight: 450kg
Request A Quote
SKB120-5.5 DTH Drilling Machine Specification
Model: SKB120-5.5
Drilling Hole Diameter: 90-130mm
Drilling Depth: 0-40m
Drilling Speed: 110r/min
Working Air Pressure: 0.5-1.0mpa
Air Consumption: 10m3/min
Cylinder Diameter: 140mm
Max. Propelled Force: 9600N
Drilling Rod OD: 60mm
Drilling Rod Length: 1025mm
Dimension: 2230*380*550mm
Weight: 480kg
Request A Quote
SKL100A Diesel Crawler DTH Drilling Machine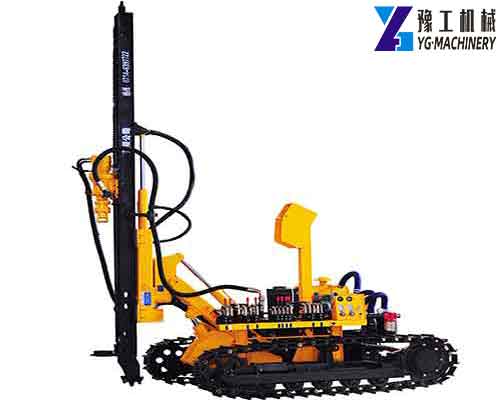 Model: SKL-100A
Applicable Rock: F=6-20
Opening Hole Diameter: 90-130mm
Drilling Depth: 30m
Walking Speed: 2.5km/h
Climbing Angle: 30O
Rotating Speed: 0-90r/min
Max. Lifting Force: 15KN
Working Pressure: 0.5-1.4Mpa
Air Consumption: 7-12m3/min
Diesel Motor Power: 33kw
Dimension: 4250*1980*2260mm
Weight: 3.2t
Request A Quote
SKL100T  Diesel Crawler Mounted DTH Drilling Rig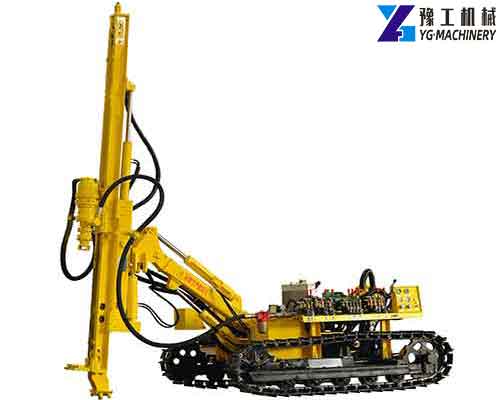 Model: SKL-100T
Applicable Rock: F=6-20
Opening Hole Diameter: 83-130mm
Drilling Depth: 30m
Walking Speed: 2.5km/h
Climbing Angle: 30O
Rotating Speed: 0-90r/min
Max. Lifting Force: 15KN
Working Pressure: 0.5-1.4Mpa
Air Consumption: 7-12m3/min
Diesel Motor Power: 33kw
Dimension: 4400*1980*2260mm
Weight: 3.5t
Request A Quote
SKL130 Diesel-electric Crawler DTH Drilling Machine Specification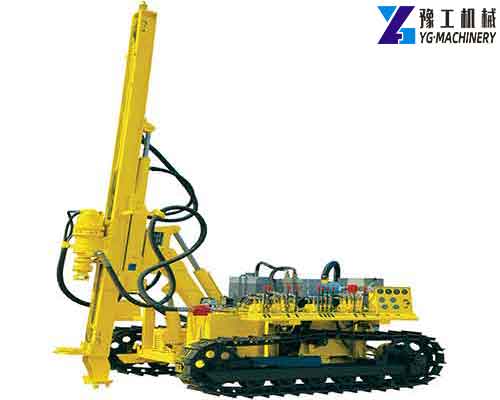 Model: SKL-130
Applicable Rock: F=6-20
Opening Hole Diameter: 83-130mm
Drilling Depth: 30m
Walking Speed: 2.5km/h
Climbing Angle:30O
Rotating Speed: 0-90r/min
Max. Lifting Force: 15KN
Working Pressure: 0.5-1.4Mpa
Air Consumption: 7-12m3/min
Diesel Motor Power: 33kw
Dimension: 4250*1980*2260mm
Weight: 3.8t
Request A Quote
SK153 Medium and High Wind Pressure DTH Drilling Rig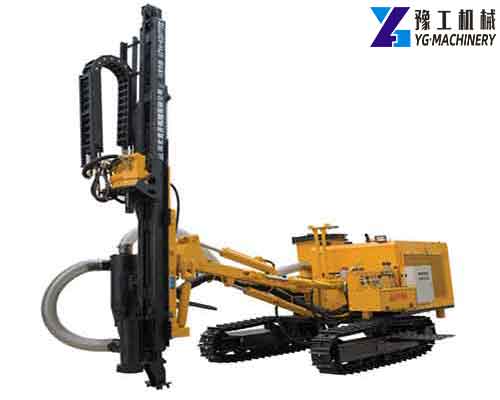 Model: SK-153
Applicable Rock: F=6-20
Opening Hole Diameter: 83-165mm
Drilling Depth: 30m
Walking Speed: 2.5km/h
Climbing Angle:30O
Rotating Speed: 0-90r/min
Max. Lifting Force: 15KN
Working Pressure: 0.5-1.4Mpa
Air Consumption: 7-12m3/min
Diesel Motor Power: 33kw
Dimension: 6320*2250*2400mm
Weight: 5.7t
Request A Quote
SK180 Crawler Mounted Down the Hole Drilling Machine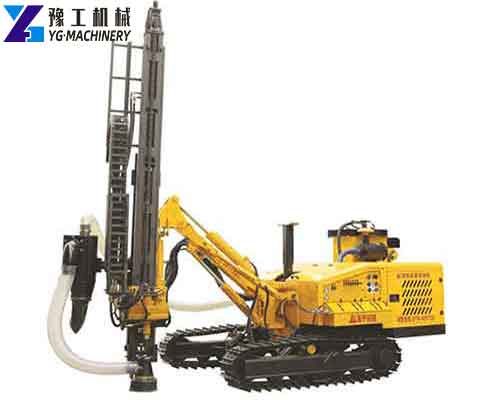 Model: SK-180
Applicable Rock: F=6-20
Opening Hole Diameter: 90-140mm
Drilling Depth: 30m
Walking Speed: 2.5km/h
Climbing Angle:30O
Rotating Speed: 0-90r/min
Max. Lifting Force: 15KN
Working Pressure: 0.5-1.4Mpa
Air Consumption: 7-12m3/min
Diesel Motor Power: 33kw
Dimension: 6500*2230*2380mm
Weight: 6.2t
Request A Quote
SK300 Crawler Type DTH Drilling Rig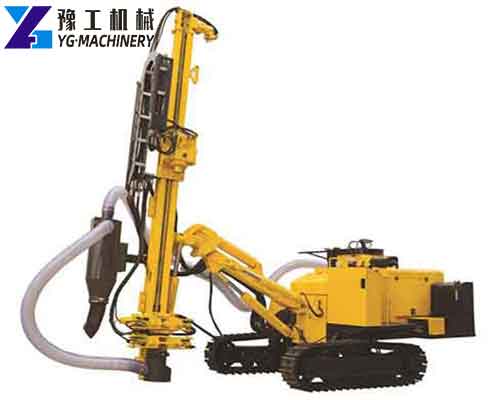 Model: SK-300
Applicable Rock: F=6-20
Opening Hole Diameter: 90-165mm
Drilling Depth: 30m
Walking Speed: 2.5km/h
Climbing Angle:30O
Rotating Speed: 0-90r/min
Max. Lifting Force: 15KN
Working Pressure: 0.5-1.4Mpa
Air Consumption: 7-12m3/min
Diesel Motor Power: 33kw
Dimension: 7600X2350X2800mm
Weight: 8t
Request A Quote
SK350 Crawler Type DTH Drilling Rigs for Sale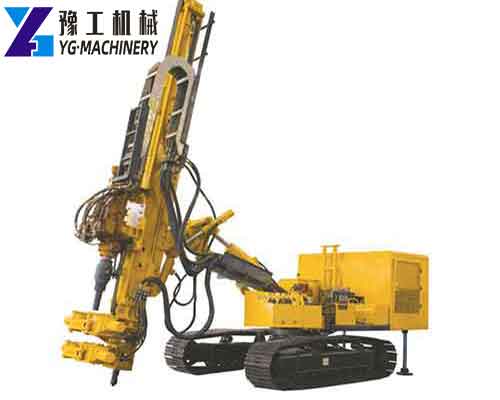 Model: SK-350
Applicable Rock: F=6-20
Opening Hole Diameter: 76-260mm
Drilling Depth: 30m
Walking Speed: 2.5km/h
Climbing Angle:30O
Rotating Speed: 0-90r/min
Max. Lifting Force: 15KN
Working Pressure: 0.5-1.4Mpa
Air Consumption: 7-12m3/min
Diesel Motor Power: 33kw
Dimension: 7210X2200X2950mm
Weight: 8t
Request A Quote