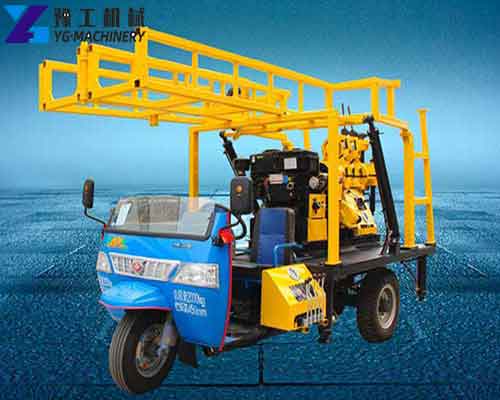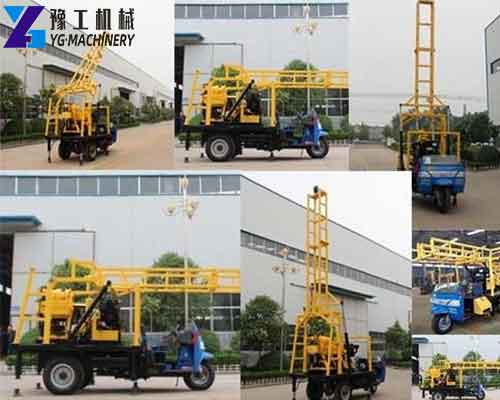 XYC series tractor-mounted water well drilling rigs are a kind of portable water well drilling rigs that can be moved around conveniently. Henan YG Machinery Co., Ltd designs and manufactures this type of drilling rig to create more benefits for our customers because the XYC series tractor-mounted water well drilling machine is very high in drilling speed and working efficiency. Of course, we also have some other types of water well drilling rigs, that can meet the different needs of customers. Such as small water well drilling rigs, hydraulic core drill rigs, anchor drill machines, pile drivers, backpack core drills, DTH drilling rigs, gasoline rock drill machines, diamond core drill machines, rotary drilling rigs, and horizontal directional drilling rigs, etc. 【Whatsapp/Wechat/Phone/Skype】+86 136 1385 6800
XYC Series Tractor Mounted Water Well Drilling Rigs Parameter
| | | | |
| --- | --- | --- | --- |
| Model | XYC-130A | XYC-180A | XYC-200A |
| Drilling Depth | 130m | 180m | 200m |
| Opening Hole Dia. | 220mm | 180mm | 200mm |
| End Hole Dia. | 75 | 75 | 75 |
| Drill Rod Dia. | 42-60 | 42-60 | 42-60 |
| Drill Angle | 90-750 | 90-750 | 90-750 |
| Power | 13.2kw | 13.2kw | 13.2kw |
| Weight | 2750kg | 2800kg | 3000kg |
| Dimension | 4*1.7*2.3m | 4*1.7*2.3m | 4*1.7*2.3m |
| Spindle Speed | 142/285/570r/min | 130/300/480/830/1045r/min | 64/128/287/557r/min |
| Spindle Stroke | 450mm | 450mm | 450mm |
| Tractor Model | 7YP-1475DI | 7YP-1475DI | 7YP-1475DI |
| Tractor Emission Standard | GB-19756-2005(II) | GB-19756-2005(II) | GB-19756-2005(II) |
| Tractor Rated Power | 18.3kw | 18.3kw | 18.3kw |
| Tractor Rated Speed | 2200r/min | 2200r/min | 2200r/min |
| Drill Mast Rated Load | 18T | 18T | 18T |
| Drill Mast Height | 6.5m | 6.5m | 6.5m |
| Mud Pump Displacement | 160L/min | 160L/min | 160L/min |
| Mud Pump Max. Pressure | 1.3Mpa | 1.3Mpa | 1.3Mpa |
| Mud Pump Reciprocating | 165times/min | 165times/min | 165times/min |
| Inlet Hose Dia. | 51mm | 51mm | 51mm |
| Outlet Hose Dia. | 32mm | 32mm | 32mm |
Applications of XYC Series Water Borehole Drilling Machine
Geological survey and exploration.
Road, railway, highways, and buildings foundation exploration.
Drill holes in concrete structures.
Construction of river dam.
Sub-grade grouting hole.
Water well drilling.
Installation of ground temperature central air conditioning.
Top Features of XYC Series Water Well Boring Machine
Three models for you to choose XYC-130A/180/200A.
Hydraulic vertical shaft rotary drilling rig.
Famous brand tractor.
Integrated structure and easy operation.
Equipped with BW-160 or BW-250 mud pump which has a high working pressure and mudflow to make sure smooth drilling.
The main water well boring machine can move back and forth which provides convenience for your instigation of the water well.
Automatic lifting drill mast with the hydraulic system.
Tractor Mounted Water Well Drilling Rig Manufacturer with Factory Price – YG Machinery
XYC series tractor-mounted water well drilling rigs for sale in Henan YG Machinery Co., Ltd is very popular among customers for their tractor type. Actually, you can also find trailer mounted water well drilling rigs, portable water well drilling rigs, small water well drilling rigs, core drill equipment, DTH drilling rigs, gasoline rock drilling rigs, anchor drill machines, rotary drilling rigs, and horizontal directional drilling rigs. Our drilling rigs have got ISO9001 and CE approval, and many customers coming from different countries have visited our drilling rig factory. You can get a two-year warranty and lifelong technical help after the purchase of our drilling rig. More importantly, we have a complete after-sale service system. So you can rest assured to buy it if you need it. Welcome your visit to our office and factory!【Whatsapp/Wechat/Phone/Skype】+86 136 1385 6800