Portable water well drilling rigs, or mobile water well drilling rigs and small water well drilling rigs, are drilling rigs that are small in size and convenient for transportation. Portable water well drilling rigs for sale in Henan YG Machinery are suitable both for residential personable use and commercial use. You can drill a water well or borehole in the soil, clay, sandy stone, and soft rock ground, but not in hard rock ground. For hard rock drilling, of course, we have many other models for you like a hydraulic trailer-mounted water well drilling rig. Following you will find several models of portable water well drilling rigs with pictures and detailed parameters.【Whatsapp/Wechat/Phone/Skype】+86 136 1385 6800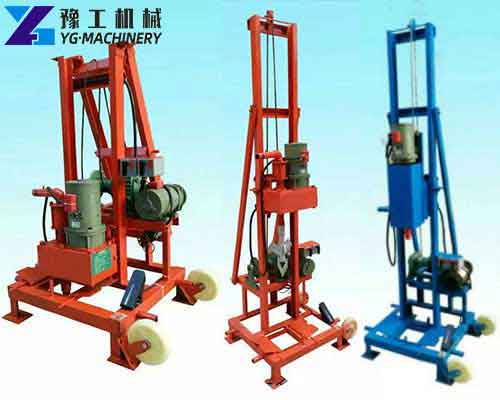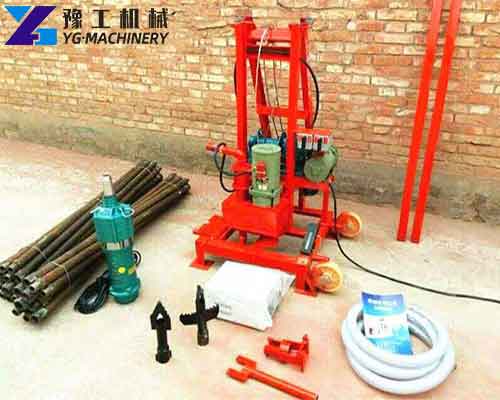 | | |
| --- | --- |
| Model | HY-180 Portable Water Well Drilling Rigs for Sale |
| Opening Hole Diameter | 80-200mm |
| Drilling Depth | 80m-100m |
| Drill Pipe Diameter and Length | φ42mm, 1.5m |
| Motor Power | 1.5kw-2kw |
| Pump Power | 2.2kw |
| Voltage | 220v |
| Lifting Force | 500kg |
| Size and Weight | 700mm*700mm*2500mm  120kg |
Attractive Features Over YG Portable Water Drilling Rig:
Economical and worthy to be owned by any person, firm, or family.
Practical and efficient by drilling speed of 30-40m depth per hour.
Easily operate by only a maximum of two workers, and has a low maintenance rate.
Portable type makes them mobilized even to be transported to wells, and boreholes site in the most remote area.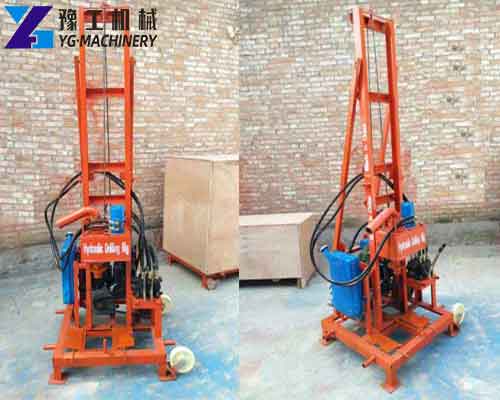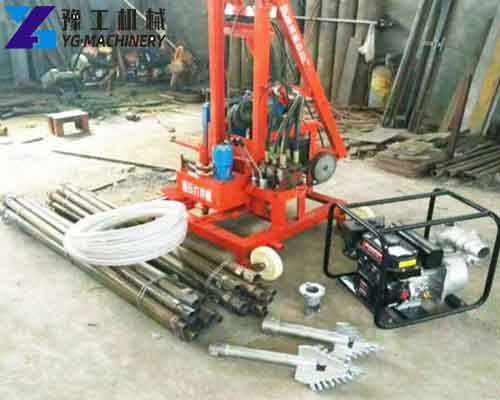 | | |
| --- | --- |
| Model | ZX-220 Portable Water Well Drilling Machine |
| Opening Hole Diameter | 80-280mm |
| Drilling Depth | 120m |
| Drill Pipe Diameter and Length | Φ51mm, 1.5m |
| Motor Power | 4kw |
| Pump Power | 2.2kw |
| Voltage | 220v |
| Lifting Force | 800kg |
| Size and Weight | 800mm*700mm*2500mm  200kg |
Main Application of Portable Water Well Drilling Machine:
You can drill a well with our portable water well drilling machine for farm irrigation and garden irrigation.
A portable well drilling rig can provide convenience for water wells for personal use.
You can also use the drilling rig to drill geothermal wells.
If you want to take cores and do piling works, likewise our portable small hydraulic water well drilling rig can still meet your requirements with special drill accessories.
You can use Yugong water well drilling equipment in drilling soil, clay, and even sandy stone.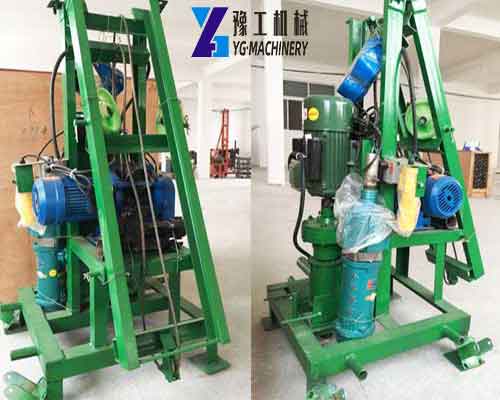 | | |
| --- | --- |
| Model | HY-240 Portable Well Drilling Rig for Sale |
| Opening Hole Diameter | 100mm |
| Drilling Depth | 0-240m |
| Drill Pipe Diameter | Φ51mm |
| Drill Pipe Length | 1.5m |
| Motor Power | 4kw |
| Pump Power | 2.2kw |
| Voltage | 220v |
| Lifting Force | 500kg |
| Size | 700mm*700mm*2500mm |
| Weight | 150kg |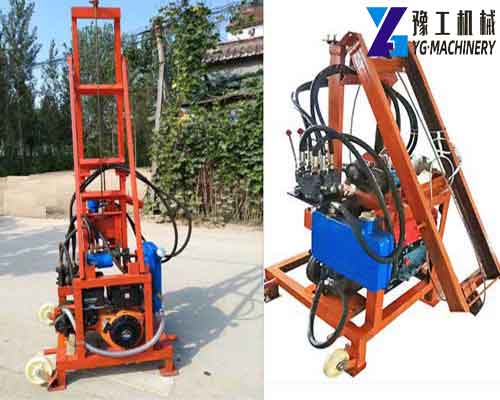 | | |
| --- | --- |
| Model | ZX-280 Portable Well Drilling Rig for Sale |
| Opening Hole Diameter | 280mm |
| Drilling Depth | 120m |
| Drill Pipe Diameter | Φ51mm |
| Drill Pipe Length | 1.5m |
| Motor Power | 4kw |
| Pump Power | 2.2kw |
| Voltage | 220v |
| Lifting Force | 800kg |
| Lifting Height | 2.5m |
| Size | 800mm*700mm*2500mm |
| Weight | 200kg |
Portable Water Drilling Rigs System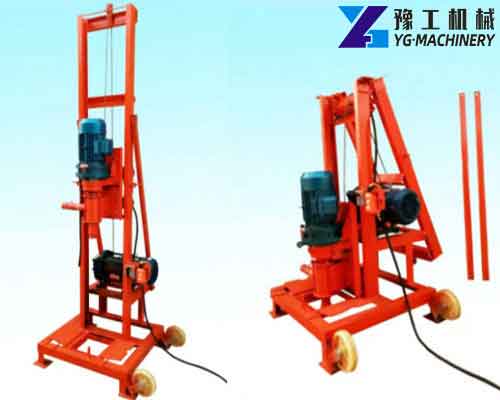 | | |
| --- | --- |
| Model | HY-350 Portable Well Drilling Rig for Sale |
| Opening Hole Diameter | 100mm |
| Drilling Depth | 0-350m |
| Drill Pipe Diameter | Φ51mm |
| Drill Pipe Length | 1.5m |
| Motor Power | 3kw |
| Pump Power | 2.2kw |
| Voltage | 220v |
| Lifting Force | 1000kg |
| Lifting Height | 2.5m |
| Size | 800mm*800mm*2700mm |
| Weight | 250kg |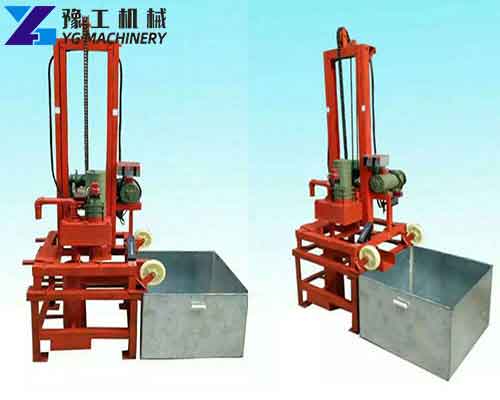 | | |
| --- | --- |
| Model | HY-120 Portable Well Drilling Rig for Sale |
| Opening Hole Diameter | 80-200mm |
| Drilling Depth | 80-100m |
| Drill Pipe Diameter | Φ42mm |
| Drill Pipe Length | 1.5m |
| Motor Power | 1.5kw-2kw |
| Pump Power | 2.2kw |
| Voltage | 220v |
| Lifting Force | 500kg |
| Lifting Height | 2m |
| Size | 700mm*700mm*2900mm |
| Weight | 120kg |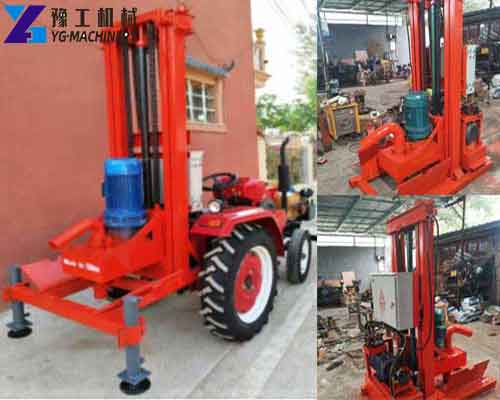 | | |
| --- | --- |
| Model | HY-500 Portable Well Drilling Equipment for Sale |
| Opening Hole Diameter | 0-500mm |
| Drilling Depth | 120m |
| Drill Pipe Diameter | Φ65mm |
| Drill Pipe Length | 2m |
| Motor Power | 5.5kw |
| Pump Power | 5.5kw |
| Voltage | 220v |
| Lifting Force | 1000kg |
| Lifting Height | To the height of the machine |
| Size | 1000mm*1500mm*2000mm |
| Weight | 600kg |
Choose Right Portable Water Drilling Rig Manufacturer – YG Machinery Price
The portable water well drilling rig information I have presented above is the basic information you should know. Please trust Henan YG Machinery, because we will let the quality speak for itself. We design a portable water well borehole drilling rig to drill water wells specifically. If you want to drill a blasting hole and get samples underground, we can recommend you DTH drilling rig and core drilling equipment. If you want to drill a hole in the wall or concrete, cement, and asphalt floor, in addition, we have a diamond core drill machine, trailer-mounted water well drilling rig, small water well drilling rig, rotary drilling rig, horizontal directional drilling rig, rock drill machine, backpack core drill machine, anchor drill machine, pile driver for you. In conclusion, Henan YG  Machinery will be the right choice!【Whatsapp/Wechat/Phone/Skype】+86 136 1385 6800