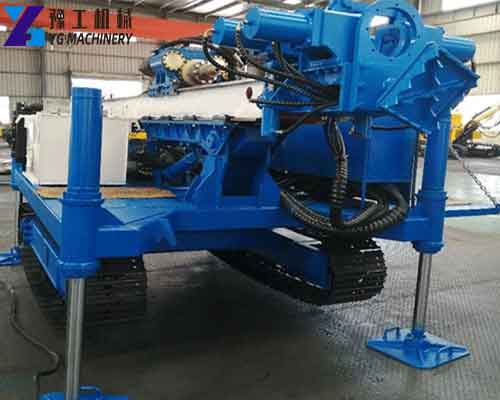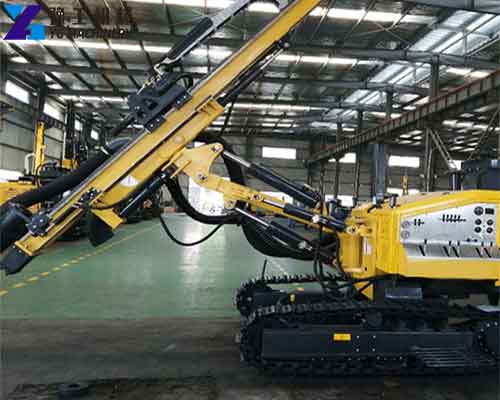 The crawler anchor drilling rig is mainly used for the slip wave treatment engineering of railways, highways, water conservancy, and hydropower facilities, the anchorage engineering of dangerous rock mass, the anchorage engineering of rock slopes such as controlling the displacement of buildings, and the deep foundation pit support and foundation for construction city. Reinforced engineering holes, blasting holes for blasting works, and tunnel pipe support holes. Of course, we also have rotary drilling rigs, horizontal drilling rigs, crawler DTH drilling rigs, portable DTH drilling rigs, small water well drilling rigs, hydraulic core drilling rigs, backpack core drill machines, gasoline rock drilling rigs, diamond core drill machines, contact us now!【Whatsapp/Wechat/Phone/Skype】+86 136 1385 6800
Crawler Anchor Drilling Rig Parameters:
Machine parameters

Weight
6T
Drilling diameter
150-250mm
Drilling depth
130-170m
Drill pipe diameter
73,89,102,114mm
Shipping size
5400*2100*2000mm
Vertical working size
3600*2500*5600mm
Power Configuration
Electric motor
Power 55kw+18.5kw
Powerhead
Rated output torque
7500Nm
Rated speed
10,20,30,35,40,60,65,70,85,130,170rpm
Propeller
Boost speed
0-5 Adjustable,7,23,30m/min
Feed speed
0-10 Adjustable,14,46,59m/min
Rated lifting force
70kN
Rated feed force
36kN
Feed process
3400mm
Slip process
900mm
Drilling rig angle
Drilling angle
0-90°
Climbing angle
25°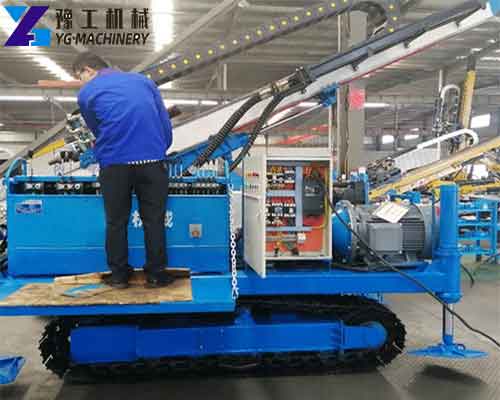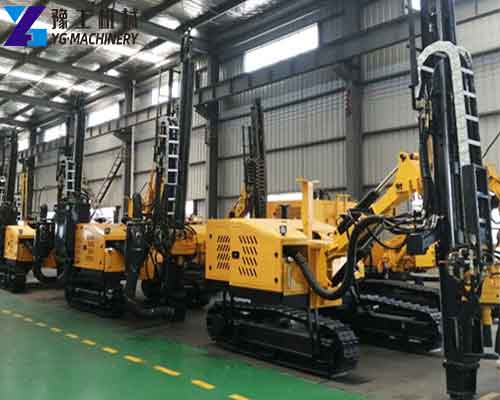 Crawler Anchor Drilling Rig Feature:
The crawler anchor drilling rig is compact, energy-efficient, low-noise, and environmentally friendly.
The machine adopts a low-speed and high-torque motor, which has stable and reliable performance and long service life.
The machine has a wide range of applications and powerful drilling capabilities.
The powerhead has a long stroke and high drilling efficiency.
The powerhead and the guide rail are connected by a new wear plate, and the guide rail wears little.
The drilling angle range is a large, multi-functional design, and the drilling positioning is convenient and reliable.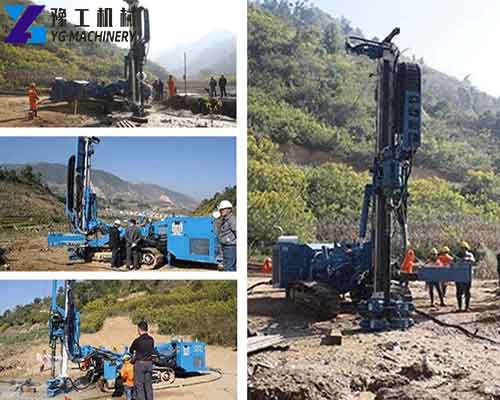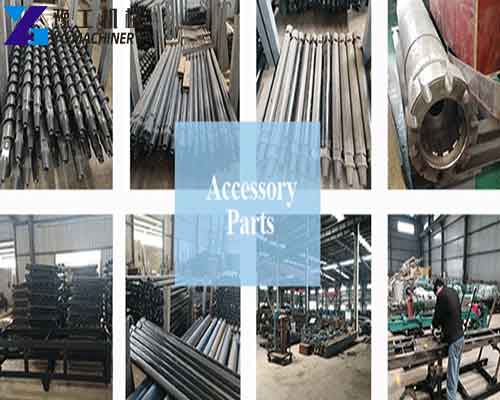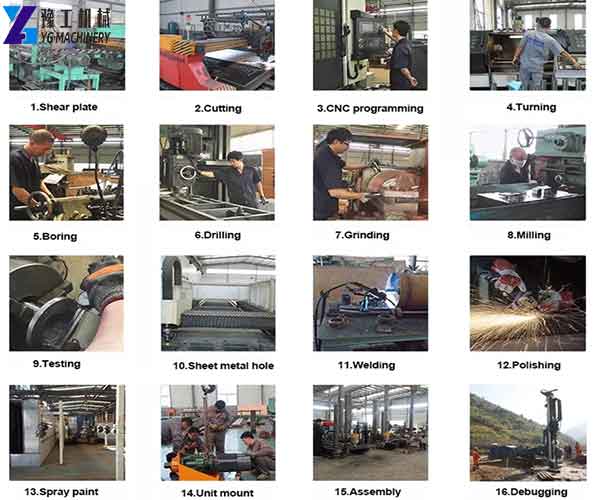 Why choose YG Anchor Drilling Rig?
Good performance: Compact structure, small size, lightweight, flexible and flexible, can be applied to work on high slopes and scaffolds; Hydraulic powerhead has large output torque, strong drilling capability, and a wide range of drilling rigs; The output speed of the powerhead is step-less speed change, and the drilling parameters can be selected independently according to different construction requirements and geological conditions to achieve the best drilling efficiency. Therefore, no matter what type of anchor drilling rig, the hydraulic transmission system is an important part of the anchor drilling rig equipment. If the maintenance is not proper, various failures will occur, which will seriously affect the normal operation of the equipment. Therefore, the maintenance of the hydraulic system should be paid great attention to jobs. The faults that may occur in the hydraulic system are various. Most of the faults that occur during use are caused by improper oil selection, oil contamination, air entering the system, and excessive oil temperature.【Whatsapp/Wechat/Phone/Skype】+86 136 1385 6800