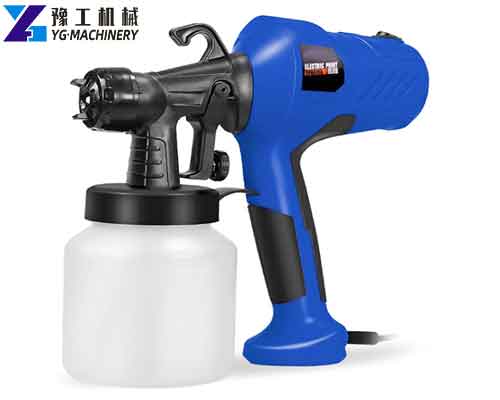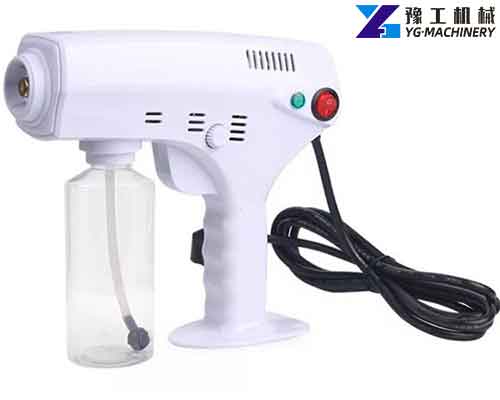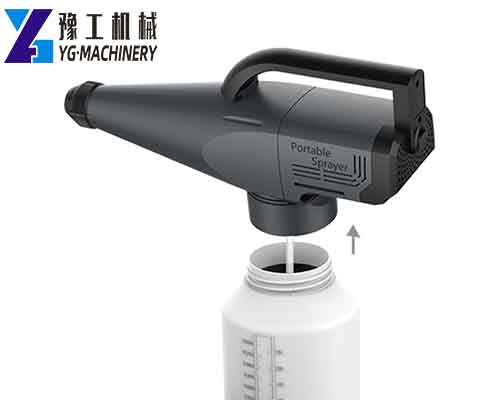 YG's portable nano household sterilization gun can be atomized and sterilized, which is a great tool for anti-virus sterilization. Equipped with a metal spray head, using PA high-temperature resistant material, the fog is fast and the amount of fog is large. It also has a large number of heat dissipation holes, while releasing a large amount of nano blue sky spray, the intelligent heat dissipation of the body protects the machine. The handheld nano spray disinfection gun includes a wireless battery disinfection spray gun and a plug-in battery disinfection spray gun. Which one do you prefer? Please contact us now for more information. 【Whatsapp/Wechat/Phone/Skype】+8613613856800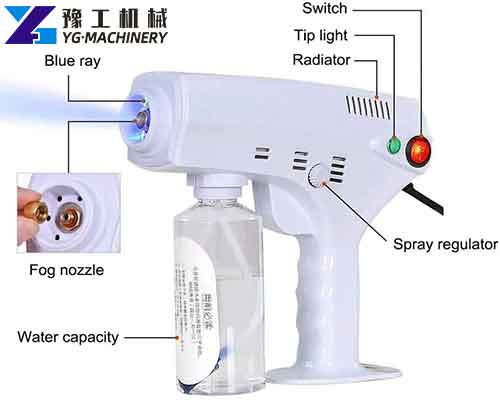 | | |
| --- | --- |
| Product Name | Home and car use nano disinfection spray gun |
| Product size | 22*21CM |
| Product weight | 900g |
| Rated voltage | 110-240V/50Hz |
| Rated power | 10w |
| Battery capacity | Mach 2600 |
| Power supply voltage | DC12V |
| Charging time | 2 hours |
| Use time | 3 hours |
| Water bottle capacity | 800ml |
| Net weight | 9.3kg |
| Gross weight | 10kg |
| Quantity | 10 |
| Carton size | 59.5*44.5*27.5CM |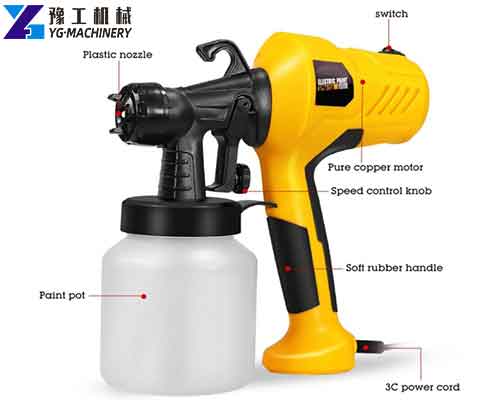 | | |
| --- | --- |
| Product Name | Spray Gun Wireless for Disinfection |
| Color | OEM |
| Voltage/Frequency | 230-240V, 50HZ |
| Rated Power | 400watt |
| Container Volume | 1000ml |
| Max Viscosity | 40din/sec |
| No-load Motor Speed | 32000rpm |
| Cable Length | 150cm |
| Occasion | Home, decorate, etc. |
| Net Weight | 2.5kg/piece |
| Size | 280*300*140mm |
| Q'ty per carton | 4pcs/carton |
| Carton Size | 380*270*330/carton |
| Gross Weight | 10kg/carton |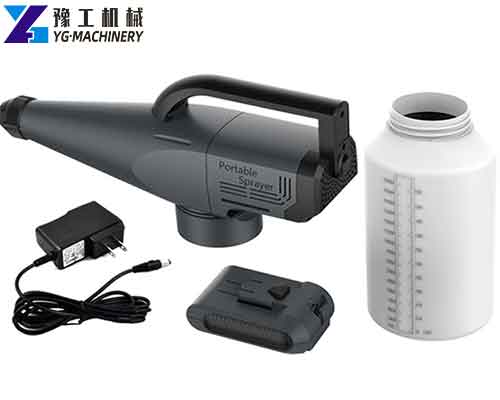 | | |
| --- | --- |
| Product name | Portable electrostatic mist sprayer |
| Water tank capacity | 1800ml |
| Battery capacity | 2200mAh |
| Charging time | 3H |
| Power supply | 20V DC |
| Working current | 6A |
| Electrostatic ion | 500W/cm³ |
| Static ion coverage distance | 5M |
| Atomization amount | 70ML/min |
| Spray distance | 3M |
| Weight | 0.95kg |
| Working noise | 90dB |
| Product size | 350*150*80mm |
| Container size | 114*200mm |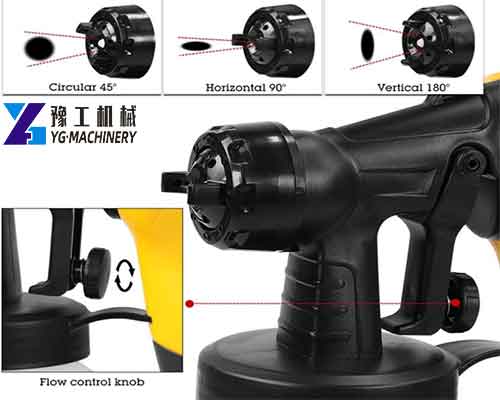 Nano Spray Gun Principle:
Based on the principle of superheated steam, produced by 3.3 atmospheric pressure, the sprayer has a strong ability to pressurize the liquid water into a superheated gaseous molecule (140 degrees, 0.26nm in diameter). It achieves a good effect on hairdressing for hot-oiling, curls, dye, and haircut, by penetrating hair follicles, it`s also helpful to sterilize air with 84 disinfectant.
Advantage of YG Handheld Nano Spray Disinfection Gun:
This device adopts dynamic nano hydrating water system pressures, transforming water into a molecule.
Ergonomic handle design: provide a comfortable feeling.
Suitable for hair coloring, hair care, and moisturizing face.
You can add your favorite essential oils to get several good effects.
Disinfection and sterilization: remove odors, they can be used in places that need to be disinfected and cleaned, at 15 minutes fresh and effective, immediately.
Nano Spray Gun Features:
Intelligent temperature control——2 real-time temperature controllers.
Lightweight ——PC material, comfortable to carry.
Strong water pump——helpful to release waste.
Safe——circuit board wrapped with PC material.
Individual handle design——reduce arm pressure.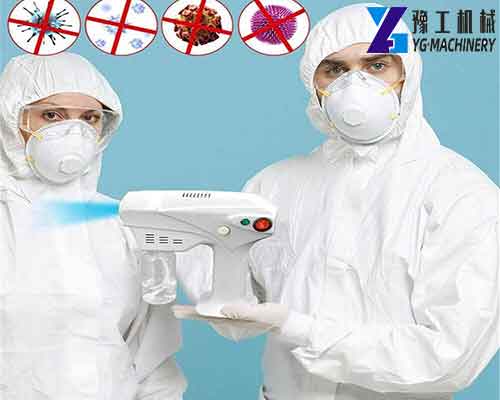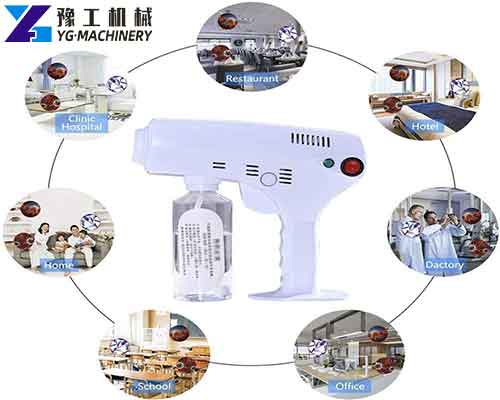 Using Method(Disinfectant Spraying):
Wear gloves before disinfecting;
Dilute the disinfect with water in a ratio of 1:20;
Fill the capacity with diluted disinfectant;
Switch on and wait for spraying;5. Adjust the spray regulator and spray.
More Functions:
Diluted disinfectant spraying.
Hair moisturizing & caring.
Skin moisturizing and penetrating.
Handheld Nano Spray Disinfection Gun Price – YG Machinery Manufacturer
First of all, it needs to be explained that all equipment sold by YG Machinery is directly produced and sold by YG Machinery, which can support OEM customization. At present, due to the development of the world epidemic, disinfection products have been very popular. Because YG is a direct manufacturer, our price is very advantageous. It is also a very good choice for customers to sell in their own country. It has been sold to the United States, Spain, Britain, Greece, Peru, Russia, Singapore, Canada, the Philippines, etc. Customers also give us very good feedback. At present, disinfection equipment is also an essential product for the resumption of work, and daily household disinfection also requires extensive use. We also have disinfection equipment such as electrostatic knapsack sprayers and disinfection doors which are also very popular. You can choose the equipment that suits you, please contact us now.