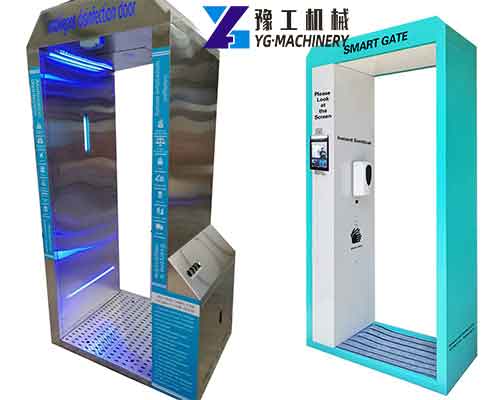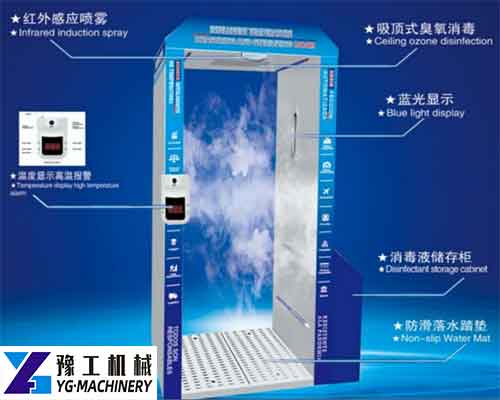 The intelligent atomization disinfection door is mainly used for personnel disinfection channels in high-end places such as breeding farms, hospitals, food factories, pharmaceutical factories, etc. Compared with traditional disinfection methods, it has a fully automatic induction control system, without personnel operation, ultra-fine atomization, and comfortable and thorough disinfection It is ideal disinfection equipment for the living management area and breeding isolation area of livestock and poultry breeding places.
The disinfection door/disinfection channel can effectively disinfect and sterilize. New coronary pneumonia is still very serious. In order to protect everyone's safety, it can be installed at the entrance of shopping malls, office buildings, cinemas, KTVs, hospitals, factories, and other places. People who go to work or go out every day can be effectively disinfected through the disinfection door/passage. YG has two types of disinfection door and disinfection channel, which can meet the needs of different people. Which one do you need? Welcome to contact us for more information about the YG disinfection door or disinfection passage. 【Whatsapp/Wechat/Phone/Skype】+86 136 1385 6800
Walk Through Disinfection Door Technical Parameter:
Product

name

Outside

diameter

dimension

Passage size

Power

Supply

Total

Power

Conversion

volume

Use the environment

Disinfection door(single)

1200*2300*

800

800*2000*8

00

220V

630W

7.5Kilogra

m time

Hotel, canteen building,

company

school

entrance

Disinfection

door(dou

ble)

1500*2400*

1500

1100*2000*

1500

220V

850W

12Kilogram

time

Hotel, canteen building,

company

school

entrance

Vehicle Disinfection door

series

3300*2400*

2500

2500*2000*

2500

220V

1700W

24Kilogram

time

Hotel, canteen building,

company

school

entrance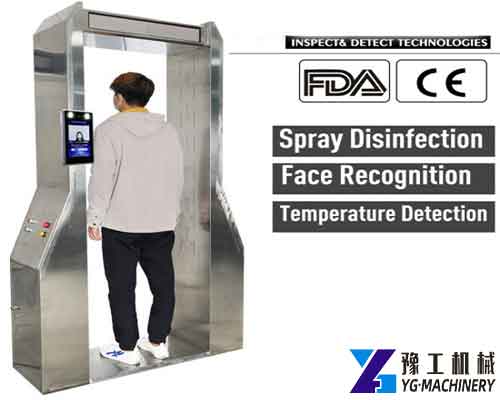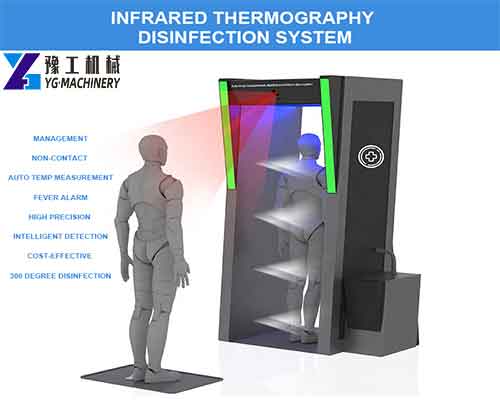 Principle Description of Intelligent Atomization Disinfection Door:
Using ultraviolet, plasma, lightwave atomization triple disinfection, disinfection is more thorough.
The control cabinet has four buttons. The power button is turned on when the machine is turned on. The light button is to control the lighting. When the disinfection lamp button is turned on, the ultraviolet disinfection on both sides and the plasma disinfection on the top are turned on. After the disinfection button is turned on, the light wave atomization is turned on, divided into low gear With high grades.
Advantages of Intelligent Mist Disinfection Door Products:
Food grade disinfection, safe and effective, non-contact disinfection.
Matrix-style whole-body disinfection without dead ends.
Humanized design, reasonable layout, and will not cause discomfort to the respiratory tract and other organs.
The overall stainless steel material is resistant to corrosion and deformation and can be moved easily.
Plasma, ultraviolet, lightwave disinfection multiple disinfection, disinfection is more thorough.
220v city power, convenient switch, simple operation, economical and environmentally friendly.
A human body temperature measurement alarm and thermal imaging body temperature detector can be added to detect the temperature of personnel.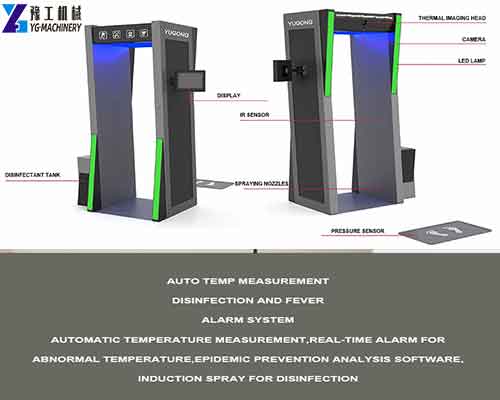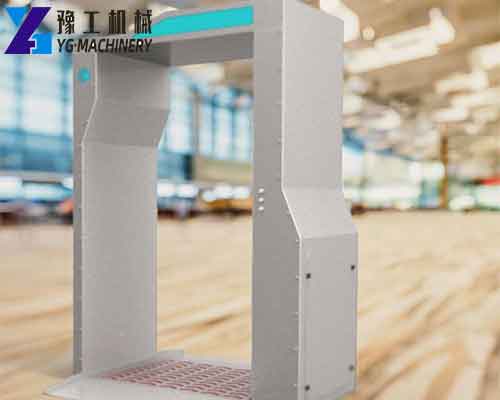 Product Introduction of Intelligent Mist Disinfection Door:
In order to avoid direct contact and then protect ourselves and our family and also save labor, believe we need the disinfection door for help, who can do the Auto measure temperature and will alert us if someone's temperature is high. Also, the machine will remind someone if wear a face mask or not, and 360 degrees to spray the disinfection. An intelligent anti-epidemic channel is suitable for public health prevention and monitoring.
It is designed to use a disinfectant spray to sterilize the human body, pet, cargo, and luggage. Meanwhile, it performs non-contact detection which can intuitively and accurately determine the abnormal body temperature. The machine is equipped with optional accessories such as casters and ramps, which can be used in various scenarios, facilitating prompt movement and mobility in deployment.
Non-contact and automatic control design effectively avoids cross-infection. It reduces the workload of security personnel and greatly reduces the exposure risk of high-frequency contact personnel.
Disinfection Door Price – YG Machinery Manufacturer
YG Machinery's smart atomizing disinfection doors have been sold to the United States, Angola, Czech Republic, Spain, Britain, Greece, Congo, South Korea, Peru, Russia, Equatorial Guinea, Iraq, Singapore, Canada, and many other countries, and received very good Customers are very satisfied with the feedback. Because we are a direct manufacturer, there is no distributor to raise the price in the middle, you will get the first-hand price, and support visits to the factory, inspection, etc., you can completely trust our quality. As the world epidemic continues to repeat, disinfection is still something that everyone must pay attention to. If you want to disinfect a large area, we also have other equipment, for example, fog cannons, electrostatic spray machines, and knapsack sprayers. If you want to use it at home or office, we also have hand-held spray guns, air disinfectors, fog smoke machines, etc. Please contact us directly to get the best price. 【Whatsapp/Wechat/Phone/Skype】+86 136 1385 6800