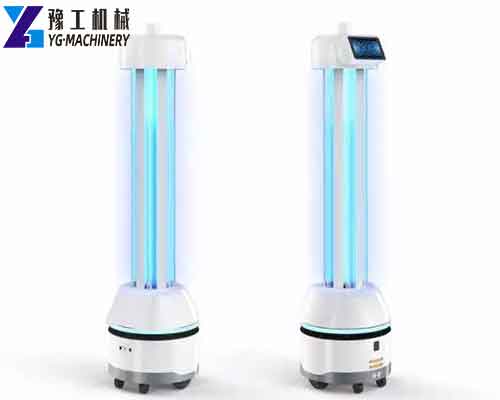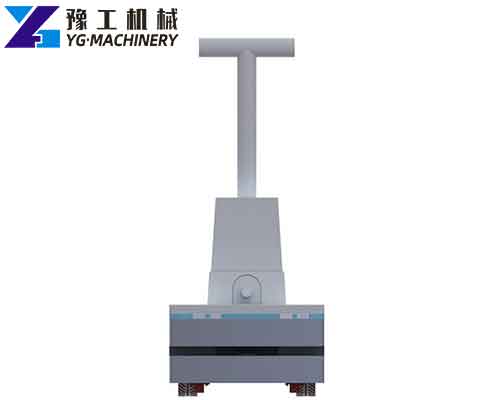 UV Light Disinfection Robot is an efficient and environmentally friendly disinfection product. As the most effective disinfection method for COVID-19, the robot had the obvious advantages of high efficiency, thoroughness, no drug resistance, and no secondary pollution.  It is suitable for various complex scenarios. It can be used in hospitals, shopping mall centers, restaurants, subway cars, nursing homes, kindergartens, schools, and other places. The robot has the ability to move autonomously and can achieve a large Timed, fixed-point, multi-track mobile disinfection, and sterilization under the environment. In addition, We also have an intelligent disinfection door, handheld nanospray gun, fogger sprayer, wet tissue machine, industrial oxygen generator, and PSA nitrogen generator.  If you need it, please contact us now! 【Whatsapp/Wechat/Phone/Skype】+86 136 1385 6800
UV Disinfection Robot Parameters:
| | |
| --- | --- |
| Way of moving | Autonomous mobile indoor navigation |
| Moving speed | 0.2~0.8m/s (recommended speed is 0.2m/s) |
| Sterilize efficiency | The disinfection efficiency is over 99.99% |
| Battery life | 0.2~5 hours (automatic charging) |
| UV output power | 67.2 W UVC |
| Lamp power | 180W (30w/pcs 6pcs in total) |
| Battery capacity | 20800mAh/37v |
| Total weight | 43KG |
| Machine size | 540mm(L)*360mm(W)*1536mm(H) |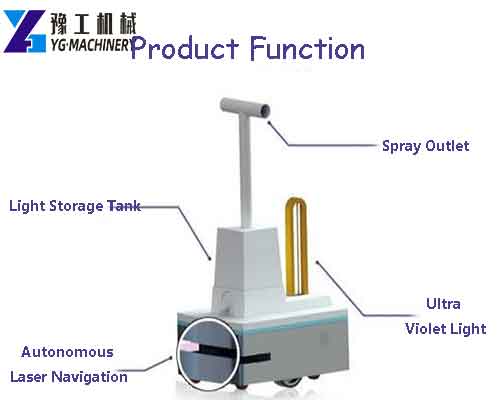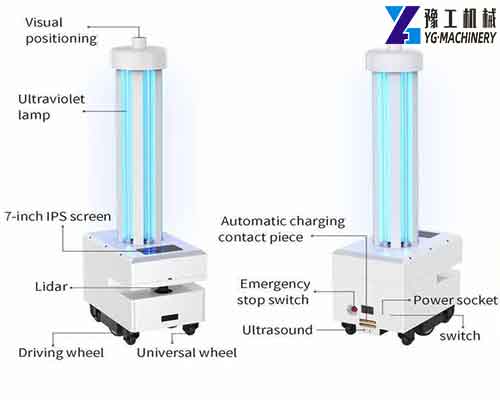 Features of Portable UV Light Disinfection Robot for Sale in YG:
The maximum irradiance at 1 meter is greater than 650μw / c㎡ (1m).
Irradiance at 1 meter is greater than 200μw / c㎡ Effective coverage angle is 270 °.
Autonomous mobile disinfection to reduce manual contact.
Disinfection efficiency: 10 minutes disinfection area 57 square meters, 74 cubic meters.
A single charge, running time 5 hours, can achieve 1700 square meters, effective disinfection of about 2210 cubic meters of space.
Optimization of the killing path: According to the ultraviolet light distribution of the robot, the killing path is planned professionally (quality, quantity, and safety).
The disinfection process is safe and controllable: it comes with a voice to remind people to avoid it during operation; it has an infrared sensor to prevent injury caused by accidental intrusion.
Intelligent management can perform task configuration, task time, route, content, walking frequency, and other management.
Automatic inspection, automatic inspection sterilization according to the defined route, without human intervention.
The separation of man and machine reduces contact and the risk of infection.
Automatic barrier: automatic barrier functions to prevent touching space objects.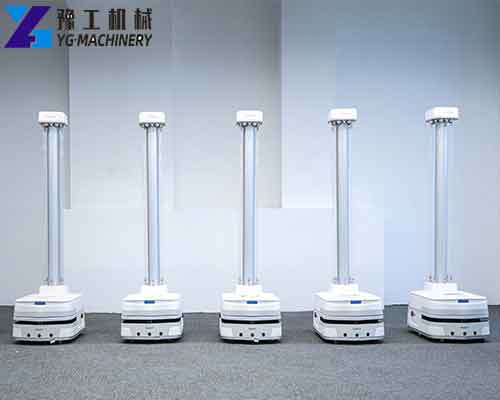 Why is UV Light Disinfection Robots Widely Used By Everyone?
Intelligent UV Sterilizing lamp, efficient, safe, and pollution-free:
6pcs ultraviolet lamps can effectively kill more than 99.99% of bacteria and viruses on the surface of the environment, effectively reducing the risk of cross-infection.
Remote control, custom working hours, automatic disinfection tasks at a specified time, free of setup, and maintenance.
Autonomous path planning, and real-time data monitoring to avoid the problem of disinfection failure caused by attenuation of irradiation intensity.
When using a UV disinfection robot to disinfect the room, people should be kept away from the robot, and it is forbidden to look directly, so as to avoid UV damage to the skin and eyes.
Intelligent inspection and sterilization system for large space (FL-UV ROB 1100 ):
90% energy at 253.7 nanometres emits light, which breaks the DNA and RNA chains of viruses, bacteria, and other microorganisms.
No ozone, no secondary pollution.
Confirms the provisions of the"Disinfection Technical Specification"2002 edition of the Ministry of Health-2.1.5.4.
Industrial-grade stability and reliability, high safety.
Equipped with dual laser radar and ultrasonic radar, intelligent obstacle avoidance, and high navigation accuracy.
Positioning accuracy: fixed point 1CM; 2cm on the movement path.
Adapt to different ground conditions, able to adapt to 8° slope climbing, 10mm steps, and 30mm gap.
Multiple safety protection: support multi-level safety protection such as distance and collision detection to realize safe and reliable motion control.
Professional optical design:
The disinfection effect of the robot system is verified by simulation of TracePro, a world-renowned optical design software, to accurately obtain the radiation illuminance distribution data in three-dimensional space, guide the setting of the killing path, and killing time, and ensure the optimization of killing effect and coverage area.
Batwing" type light distribution can not only ensure the effective kill range of 270 °, but also have the best radiation illuminance on both sides of the robot's travel, and improve the disinfection effect on both sides.
270 ° in the forward direction, the light is evenly distributed, and the 70 ° safe area is reserved at the rear to provide a safe area for personnel.
At the same time, it is equipped with an infrared human induction device, which can turn off the light when detecting the intrusion of personnel or animals, which can effectively protect the safety of personnel while achieving efficient disinfection.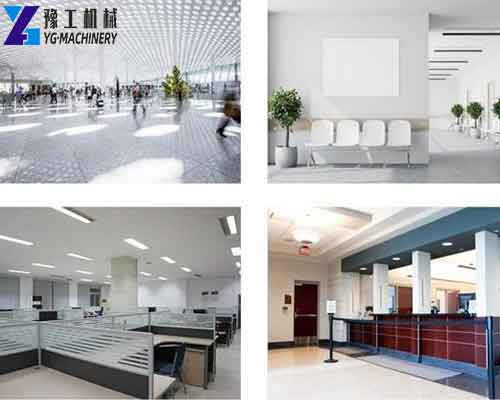 UV Light Disinfection Robot Manufacturer – YG Machinery
Our intelligent disinfection robot can be used in transportation hubs, administrative organizations, medical institutions, enterprises, residential areas, etc. At present, many countries are using this intelligent disinfection robot because it has safety sensors, can disinfect 360 degrees, and is very smart, when there is no electricity, you can go back and charge by yourself. The intelligent disinfection robot developed by YG Machinery conforms to the public's aesthetics, is easy to use, and has the best technology and suitable price (manufacturer), so it is deeply loved by customers all over the world. If you also like this robot, please contact us. And we also sell electrostatic sprayers, hand-held spray guns, smart atomization disinfection doors, glove production lines, mask machines, melt-blown cloth production lines, industrial oxygen generators, portable PSA nitrogen generators, wet wipes machines, shoe cover making machines, trolley/luggage disinfection tunnel, balloon making machines, condom making machines, etc., is a very powerful large enterprise, please contact us as soon as possible.【Whatsapp/Wechat/Phone/Skype】+86 136 1385 6800